Yucatán, land of the Mayan culture
In recent years, the Mexican state of Yucatan has become more popular in the tourism segment, thanks to the recent designation of Chichén Itzá as one of the 7 wonders of the modern world and the strong commitment of businessmen and government to promote this place that enjoys a strong natural and historical wealth.
Since the times of the Conquest, Yucatan has been a key point in trading for its seaports and, thanks to its geographical location, it has become an important hub for the passage of many people for different interests, and this state has many settlements of the Mayan culture where numerous quantities of historical pieces have been found, which are mostly stored inside the museums in the city of Mérida and its surroundings, and not only that! It is also the place where that meteorite that killed the dinosaurs fell down.
It is amazing how many events have happened in such a small place. Yucatan is definitely a place that you have to visit regardless of who you travel with, since it is a place of relaxation and to get in touch with nature and history.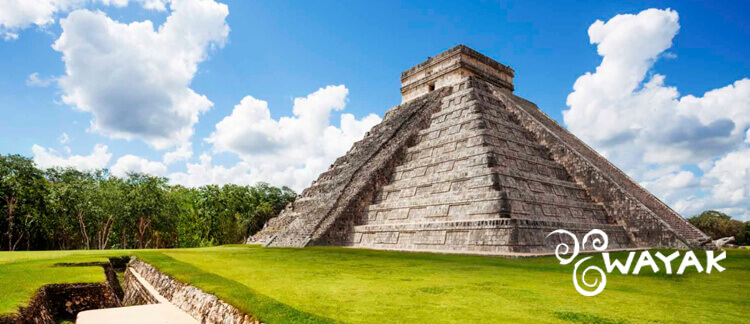 What to do in Yucatan?
Yucatan has an International Airport located in Merida, the capital of the state, this is one of the most beautiful cities in Mexico thanks to its gastronomy, historical sites and its proximity to important archaeological sites and beautiful beaches.
Mérida is a very calm and peaceful city, full of customs and traditions. Putting Mérida in your list of places to visit, it's definitely an excellent idea because there's always something to do and be relaxed.
If you have already chosen Mérida as your destination city, we will make sure you take advantage of the many or few days that you decide to be there. Wayak has several tours of which we will discuss in this practical guide for you to take with you on your trip through Mexico.
It is likely that your arrival point is the Merida International Airport, we recommend you to book an Airport Transfer with us, since the airport offers the service of local taxis, which use very high rates for all the users and you will be able to save a few coins reserving a convenient transport with Wayak, you can check it in our webpage and review our rates, in addition that our drivers are very friendly and will tell you more recommendations for your visit to Merida.
If you have not booked your hotel, we recommend you to look after a location near Paseo de Montejo or a hotel located in downtown or Avenida Colón, since those places represent much of the culture and history in Merida and you will be close to many places to eat and visit a few steps away from your comfortable hotel; even in recent years, investments have been promoted and very nice new hotels have been built.
Well, once you are installed in your hotel, take the opportunity to go out and meet because resting costs!
Walk through Paseo de Montejo.
Paseo de Montejo is an emblematic avenue in the City of Merida, this is called this way because it was the Sunday walk route by Mr. Francisco de Montejo, a Spanish military explorer who conquered Yucatan in the fifteenth century in the company of his son and his nephew. Paseo de Motejo is a place where you will find many options to have a good time, such as bohemian bars and restaurants, as well as the entire avenue has park-like benches to sit and admire the tranquility of the city by eating an ice cream from the traditional El Colón ice cream shop. This avenue leads several important monuments to historical figures and also famous houses that over time have become an emblem of the city, some of which are "The Twin Houses and the G. Canton Palace.
If you are one of those who like bohemian life, we recommend you to visit the bars and canteens in downton, which in recent years has been given a more bohemian and friendly turn for all public, La Negrita is the most popular.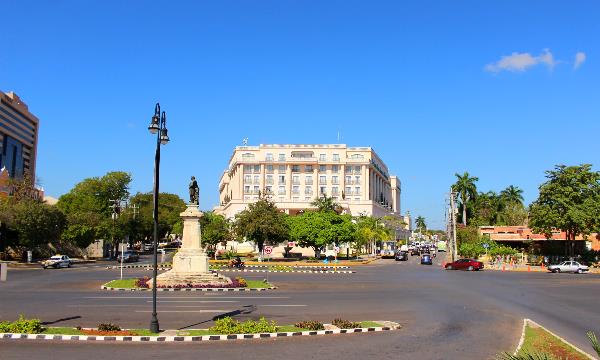 Ruins of Dzibilchaltun.
This is very close to the city of Merida, there are several archaeological sites, among them is Dzibilchaltun, an important Mayan city highlighted by its proximity to the sea and its beautiful open cenote in which you can swim and cool off after a walk through the ruins.
The structure that stands out in this area is the Temple of the 7 Dolls, famous for being a key point to appreciate the equinox, a natural phenomenon in which sunlight matches the doors of the temple.
Dzibilchaltún also has a museum at the beginning of the tour, it houses a collection that tells a lot of important history of Yucatan, from the history of the Mayan settlement to how henequen haciendas worked in their mere boom.
Visit Progreso Beach
In recent years, Progreso beach has become a key point for tourist investors, since it has always been a key port for trade as it functions as a customs entrance for many imported products. If you want to enjoy the sea with a nice beer, we recommend you to visit the Eladios restaurant, a traditional place where you can try a lot of Yucatecan food and also a good fried fish and cocktails.
If you have time, try to stay until the night to enjoy the traditional Yucatan cravings along with the sea breeze. We are sure that it will be a very relaxing activity to spend as a couple or as a family.
Visit Celestún.
During the last years, Celestún has been in the sights of many tourists, it is an area that is not inhabited and exploited by constructions, there are hardly any few hotels in the area and that makes it a true paradise.
Celestún has also become famous because it is an important point to observe the beautiful pink flamingos, these are only during the summer seasons and it is very easy to find them by booking a tour with Wayak.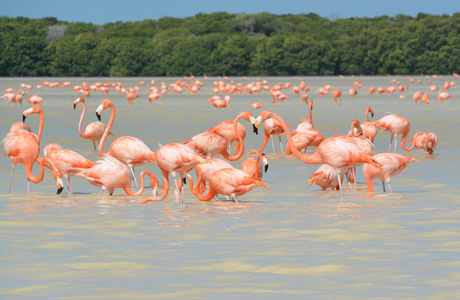 Visit Chichen Itza
We are sure that this is the one you would most like to see! Chichén Itzá is very close to Mérida and you can book a tour with Wayak to get to know it. On this visit we pick you up at your hotel and we go from very early in the morning to know this world wonder and even swim in an authentic cenote. Try to bring a swimsuit, hat and sunscreen.
In Chichén Itzá you can observe and know the most emblematic Mayan structures of this culture, counting the famous castle, the observatory, the temple of the thousand columns and the sacred cenote where hundreds of inhabitants were sacrificed in offering to the ancient gods to ask for a great harvest, rain and well-being. In the sacred cenote of Chichén numerous bones and jewels belonging to the sacrificed ones were found.
Ask our guide about the structure below the castle and the treasures it houses!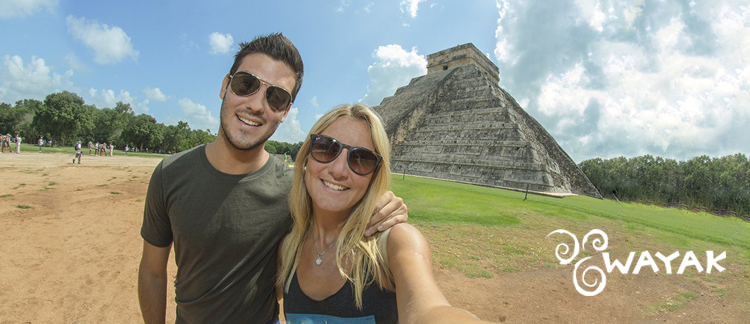 Try all the food you can!
Yucatan is very famous for its gastronomy, it takes many days to taste every typical dish of the region because there is one for every meal of the day.
Cochinita Pibil is famous for breakfast, especially on Sundays. The best is the one that is cooked in a "buried" way and can be eaten in tacos or sandwich.
The Frijol con Puerco is one of the most prized delicacies of the Yucatecan gastronomy, which is a dish made with bean broth with pieces of pork, served with onion, radish, cilantro, rice and tomato sauce; It is recommended to accompany it with habanero pepper and a cold drink.
Also, outstanding in the food is the famous Queso Relleno, a delicacy of Dutch cheese stuffed with meat in a very special sauce.
All these specialties can be found in famous restaurants located near the center of the city, ask our guides for their recommendations.